Frankfort Crossing —
Louisville's First Car-Free/Transit-Rich Mixed Use Redevelopment
… 24 residential units
… 80 indoor/secure bicycle parking spaces (2+ bikes per bedroom)
… a public bicycle shop
… 9,560 sq ft of commercial space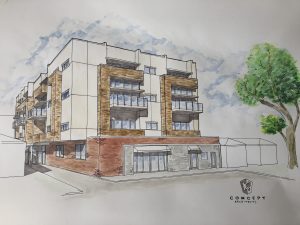 This project is currently moving through Metro Planning and Design.
Funding is a MAJOR obstacle in bringing this vision to reality.
If you have a million you want to invest….